Wood Pellet Press
What is Wood Pellet Press?

Wood pellet press is usually called pellet mill machine or most commonly wood pellet machine or pellet mills. Wood pellet press is used to compress small pieces of wood into much larger solid wood pellets just as its name suggests. This type of pellet mill machine is quite different from hammer mill as hammer mill is designed to cut large wood briquettes into small pieces.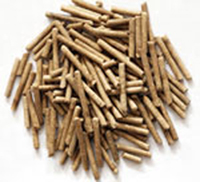 Nowadays, more and more people are putting their focus on wood pellets instead of oil and gas due to the high price of oil and gas and more concerns over climate change. Wood pellets made by pellet mill machine can meet most of people's concerns on either price or climate. This new type of wood pellets fuel owns competitive price and at the same time it is CO2 neutral and very friendly to our environment. Easy to handle, store and transport. Pellet mill machine was initially designed to process feed pellets for animals, but as early as the 1970's some companies had started to look into making wood pellets by this kind of press as a fuel source. However because of the cheap fossil fuels that were available, the wood pellet market struggled to grow.
Wood Pellet Press Types

Wood pellet press can be divided in to two main types, small wood pellet press machine and large pellet press machine. Small wood pellet mills are usually used to make wood pellets for home use, you can generally call them small pellet mill or flat die pellet mills. Large wood pellet presses always refer to ring die pellet mills which are usually used in large scale wood pellets production. This type of pellet mill machine always appears in the pelleting process of wood pellet plant. Below are the most popular designs of wood pellet presses, they can produce various raw materials into pellets, especially suit for processing wood pellets. They are ZLMP series pellet press machines.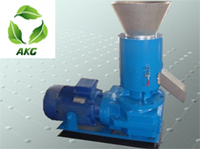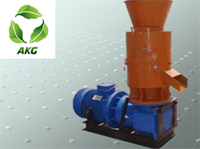 AKG BiofuelTech Co., Ltd.
Copyright © 2001-2011
PelletMill
.net - All Rights Reserved. E-mail:
sales@pelletmill.net
Tel: +86-20-83881581 Add: Changping Town, Dongguan, Guangdong Province, China 510060