Pelletizing Machine
Our wood pelletizing machine or wood pellet press is a new kind of pellet mill special for wood sawdust in pelletizing plant. It can also apply to other biomass materials like the stalk, straw, peanut shell and so on. For this kind of pelletizing machine, the output volume is high, energy consumption is low and the operation is convenient.
Pelletizing Plant:
Pelletizing plant or wood pellet plant is a set of complete pellet mills that used to make pellets on large scale for industrial use. Apart from pelletizing machines, the whole pelletizing plant also includes some other auxiliary machines. hammer mill, crusher, dryer, cooler, separator, packing machine will be needed in pelletizing plant process.

1.Pelletizing Machine with electric motor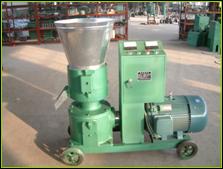 Type

Power (Kw)

Capacity

Dimension (mm)

NG/GW
(kg)

ZLSP200B

3-phases 7.5kW

200-300

1000x430x950

200/230

ZLSP200B

200-300

900x430x950

ZLSP230B

3 phases 11kw

300-400

1140x470x970

290/320

ZLSP230B

300-400

980x470x870

ZLSP260B

3 phases 15kw

400-600

1200x500x1070

330/360

ZLSP260B

400-600

1120x490x1070

ZLSP300B

3 phases,22kW

700-800

1270x520x1070

410/450

ZLSP300B

700-800

1170x520x1070

ZLSP360

3-phases 22kW

1270x520x1070

470/500

ZLSP360

1270x520x1070

ZLSP400

3 phases,30KW

900-1100

1470x600x1150

550/585

ZLSP400

900-1100

1470x600x1150
2. Pelletizing Machine with diesel motor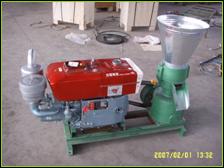 Type

Power (Kw)

Capacity

Dimension (mm)

NG/GW
(kg)

ZLSP200A

15hp diesel

200-300

1000×460×900

210/240

ZLSP200A

200-300

1000×460×900

ZLSP230A

22Hp diesel

300-400

1180x560x1020

280/310

ZLSP230A

300-400

1090x520x820
3. Smallest Pelletizing Machine
All models above can process both animal feedstuff and wood pellet from sawdust. But Smaller models are not so suitable for processing wood pellets, instead you can use them as feed pellet mills.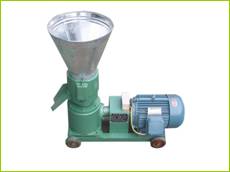 Type

Power (Kw)

Capacity

Dimension (mm)

NG/GW
(kg)

ZLSP120

3kw 3-phases or 2.2 kw single phase

75-100

710x390x910

80/100

ZLSP120

75-100

670x390x910

ZLSP120A

8hp diesel

75-100

730x320x670

ZLSP120A

75-100

900x440x730

120/140

ZLSP150

4kw 3-phase

90-120

750x350x650

95/115

ZLSP150

90-120

700×350×650
NOTE: All of our pelletizing machines have got the CE Certificate, and all above models can make pellets for animal feed as well as wood pellets for fuel.
Pelletizing Process of Wood Pellets:
If you would like to know how to make wood pellets and the pelletizing plant, you should look at the following pelletizng process.
Firstly, if the raw material is larger than 1/4", it should be broken down in the hammer mill to a smaller particle size.
Secondly, dry the materials in a dryer up to 600 degrees Fahrenheit to get rid of moisture. The favorite pelletizing moisture content is about 13%-15%.

Third, put the substance through a pellet mill or press. The machine will squeeze through a die that has holes. Then pellets will be produced. Keep high pressure on the pellets. Make sure the press machine remains at a high pressure so it will ensure the wood to soften lignin (a natural bonding substance) and hold the pellet together naturally.
Then, The temperature and moisture content of wood pellet is usually much higher after pelleting. In this situation, you need a cooler to reduce pellets temperature and moisture content for better storage purpose.
Last but not least, you need a packing machine to pack your pellets to stop them from getting damp for better storage.
Request a Quote
We receive enquiries in English, Español (Spanish), Русский язык (Russian), Français (French) and العربية (Arabic).Our professional team will reply to you within one business day.Please feel free to contact us!