What is Ring Die Pellet Mill
A Ring Die Pellet Mill is used to create pellets from sawdust, wood shavings, wood chips, wood logs, and any other wood wastes or biomass material. Our ring die pellet mill's advantage is reducing the roller and dies wear, as well as reducing energy consumption. These factors lead to ring die pellet mills adopted in most large scale pellet production lines.
If you want to start a pellet mill business, you need to understand the basic functions of a pellet mill. The ring die pellet mill is the most important equipment you'll ever need in your business operation. We have experience in various aspects of the pellet production process of biomass materials and wood pellets. We can help seek equipment such as chippers, hammer mills, pipe and rotary dryers, pellet mills, wood pellet coolers and semi-automated bagging solutions. Uses a ring die to form the pellets. Inside the ring, there are rollers to push raw materials through the die as well as force them out of the holes. Take note that larger wood pieces need to be reduced to at least one-fourth inch before being processed through the pellet mill.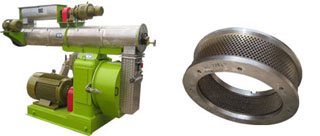 Request a Quote
We receive enquiries in English, Español (Spanish), Русский язык (Russian), Français (French) and العربية (Arabic).Our professional team will reply to you within one business day.Please feel free to contact us!