Small Pellet Mill- Simple Pellet Combination
This small pellet mill (granulation unit) enables you to make your pellets or animal feed granules with your own material. The granulation unit can be used for granulating sawdust, straw, biomass, paper, or for the granulation of feed and fodder mixtures, etc.
Our pelletizing unit is without compare in the marketplace today, with it's unique design, size and technology.
Our pellet mill is a pellet machine which produces up to 150 kg of pellets per hour and is designed to run 24/7 if required. Two pellet mills can be easily operated by one person.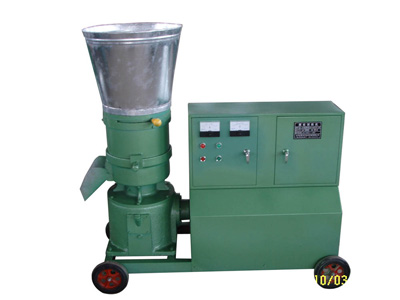 • This pellet mill will start showing a profit within 6 months.
• The Unique design of the auger-fed system along with the closed feeding hopper and continuous circulation of the material ensures that the feed stock is accurately fed into the pellet mill.
• A specially designed stirring mechanism in the pellet mill ensures the perfect flow of material to the feed arm where the granulated material is mixed with water, or with other components, i.e. lignin, molasses, oil, or vitamins for feed pellets etc.
• Our pellet mill = Two machines in one! - A pellet sorting apparatus ensures that processed granules are air cooled and cleaned before they leave the system - thus eliminating the need of a separate cooler and screen.
• Just 25 Amps is sufficient to operate the whole pelletizing unit.
Request a Quote
We receive enquiries in English, Español (Spanish), Русский язык (Russian), Français (French) and العربية (Arabic).Our professional team will reply to you within one business day.Please feel free to contact us!